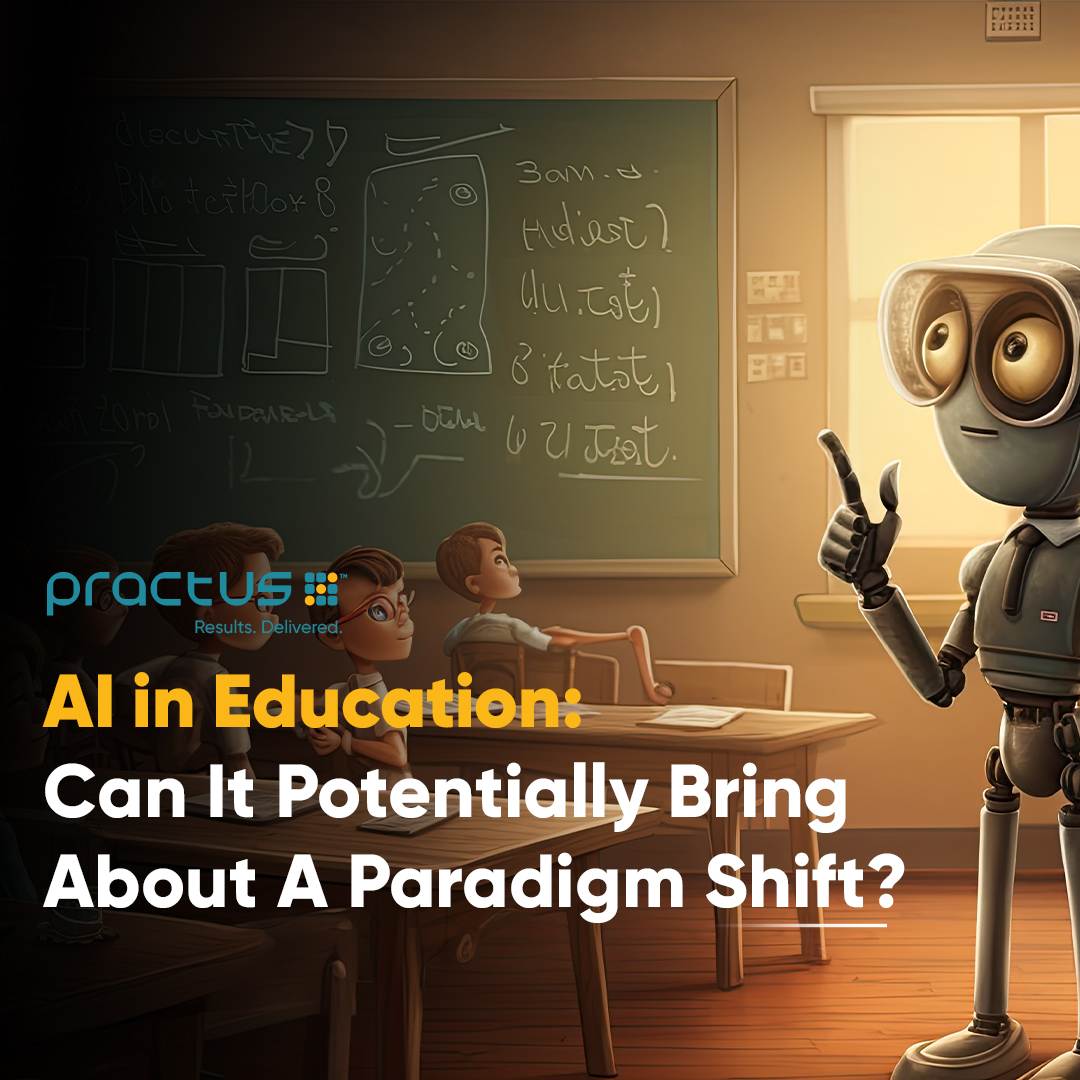 A research report from Mckinsey released last year suggests that both students and teachers are eager to continue using the new classroom learning technologies implemented during the pandemic-led lockdowns. To complement video lectures, educators used technology that enabled more interactive learning. Though the pandemic is behind us, the world of teaching and assessment underwent a paradigm shift. Today, with generative AI appearing on the scene, learning could move away from an instructor-led model to a self-learning journey. Though the prospects of a robot replacing a teacher is still a far cry.
Change it will, but how much is yet to emerge?
At this point in time, we can safely state that in addition to innovating the manner in which businesses function and industries evolve, AI can make an impact on the education system, though how much it could revolutionize the way students engage with learning is yet to be understood. As with the other verticals, AI would use myriad data annotations to improve the speed and efficacy of human effort across schools and colleges. 
Leveraging AI and machine learning (ML) tools, educators, students, parents and policy makers can come together to develop courseware that provide  the skills that learners need to survive in the fast-paced automation environment. In fact, this is not an individual's need alone as the community and the country at large would require innovation in education in order to address the complex challenges that the evolving economic growth models would push our way in the years ahead.
According to a study by Global Market Insights, more than 50% of schools and colleges already rely on AI for administrative assistance and were ready to apply them for enhancing the quality of higher education and possibly the K12 as well. 
There are ways to harness AI into academics
From chatbots to automation, AI applications can be deployed in different forms to create interactive academic plans and help students transcend the theoretical knowledge of subjects they study. Scroll down to check out a few caselets where AI could make an impact on scholastic models. 
Personalized education –

AI responds to various cognitive abilities. It takes into account students' past performance tailors lesson plans to increase focus on areas where they need to improve. In personalizing education, AI can also direct students to relevant resources that help them improve their familiarity with new concepts. Further to this, the technology can reach students discretely even when they come together in large groups – it can adapt to everyone's knowledge grasping potential and help them succeed with tailored lessons. And it breaks the barriers in communication with multilingual teaching.

Quick assessments  –

Teachers spend a huge chunk of their time grading assignments and AI helps to expedite the process. It can identify gaps in learning and offer feedback on grammar, vocabulary and veracity of students' answers in tests. With ML intelligence, it also prevents favoritism and unintentional human mistakes. Summarily, all students get a gist of where they went wrong and how they can improve to perform better ahead. 

More engaging tutorials  –

With AI-powered chatbots and interactive training materials, students get more immersive and innovative learning experiences. Also, they can access these chatbots and digital modules at anytime to continue their sessions even beyond classroom hours. Advanced chatbots can customize knowledge delivery for any subject, share pertinent multimedia elements with students, and help them strengthen the impact an academic course has on their lives.

Reallocation of teachers' time to support students –

When AI takes over the role of general tutoring, grading, and certain administrative tasks, educators have more time to accelerate students' intellectual growth and social skills. They can leverage predictive analysis to identify individually faced challenges and give students the tools to succeed in areas where they struggle to move up the learning curve.
As a transformative technology AI has the prowess to revolutionize academic life, and with its continuous evolution, there will be more solutions to improve processes followed in schools and universities. On a cautionary note though, educators must ensure that it remains a driving force of equity and quality. In the restructured education sector, there are possibilities of AI misuse to create shortcuts for syllabus completion. It is also essential to fine tune AI so that it does not replicate prevailing biases. 
In order to maximize the benefits of artificial intelligence for both students and teachers, there needs to be some best practices that are adhered to. Here are a few examples:  
Co-create –

When edtech professionals and educators collaborate to design AI applications, they can integrate strong pedagogy, address specific needs, and add cultural contexts to design unbiased learning tools. The low-code platforms used by both technical experts and citizen developers for software building can help here

Enhance digital literacy

– Besides investing in IT essentials, educational institutions must work to close the digital divide by facilitating access to devices and high-speed networks for both teachers and students.

Privacy is invaluable

– Because AI is powered by data, access to great amounts of information helps unlock its full potential. Concurrently, to prevent intrusion on the individuals' privacy – which concerns their grades, weaknesses, learning pace, and other related attributes – it is necessary to implement data anonymization processes that ensure ethical use of technology. 
The future of academics is artificial 
The adoption of AI in education comes with its benefits and challenges. While technology will never replace human teachers, the ones who use it will. For instructors, it would serve as an assistant providing appropriate teaching aids that optimizes learning with skill development. Given that AI is devoid of all social connect and empathy, teachers must always act as the go-between when it comes to students' will. Therefore, the future of AI in education will involve a partnership between technology and human expertise with a direct focus on nurturing the minds towards transforming the world.