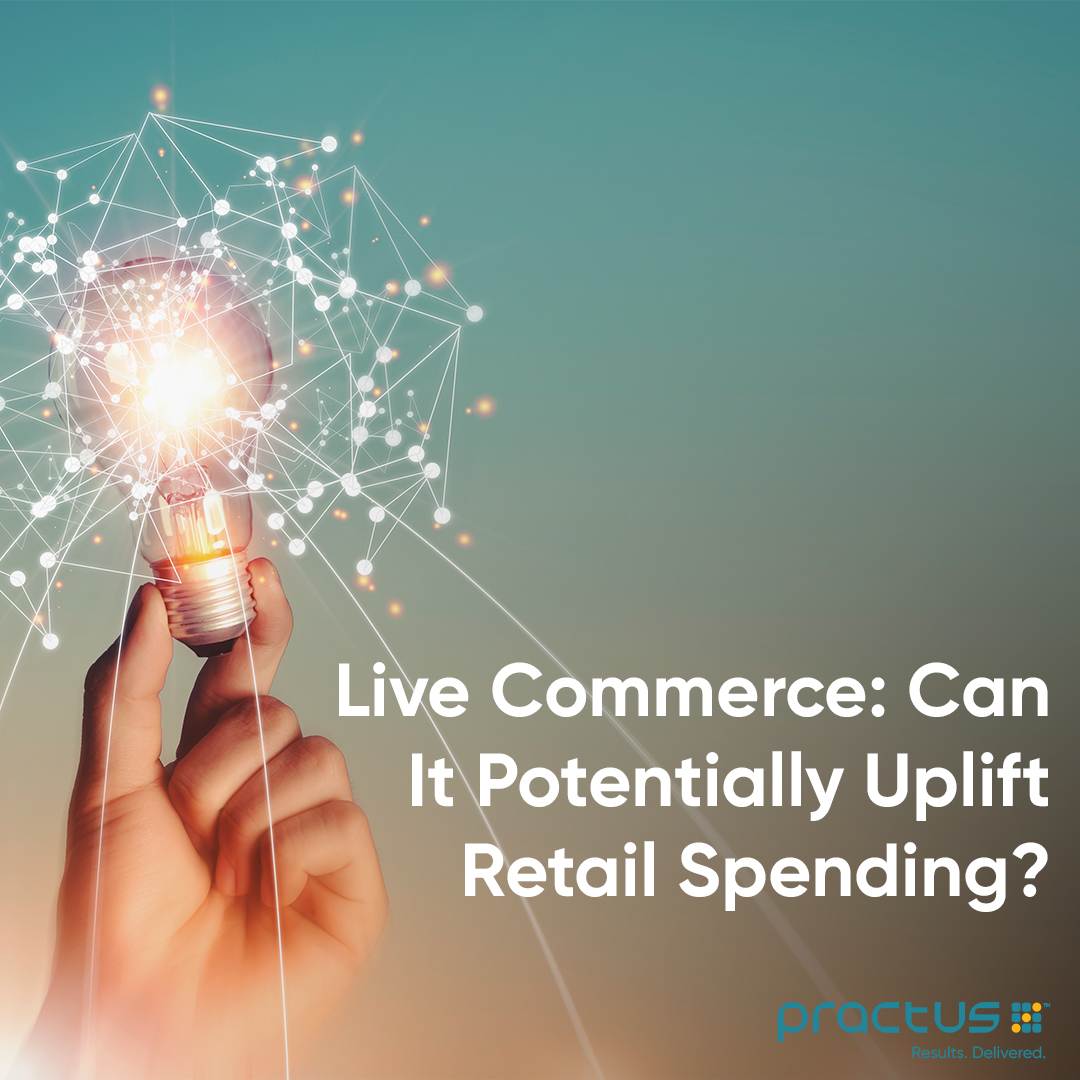 The idea of purchasing products and services during a live video streaming session came to life in May 2016 on Alibaba's Taobao. Linking up an online live broadcast with an eCommerce store not only allowed viewers to watch and shop simultaneously, but also ensured instant promotion for brands and a direct connection with the influencers. Over the past seven years, live commerce has grown rapidly in the retail industry, and a variety of platforms including social media, online stores and dedicated commerce platforms have jumped on to the bandwagon. According to Coresight Research, global live commerce sales are expected to touch $171 billion in 2023.
As many as 57% of live commerce enthusiasts in China have been live shopping for more than three years, says a recent McKinsey report, which also notes that this is a huge number compared to the mere 5-7% in the US, Latin America, and Europe. There is a growing body of evidence that suggests that live commerce can potentially uplift retail spending. The McKinsey study further points out that live commerce offers up to 10 times higher conversion rates than conventional e-commerce, as well as greater brand appeal and possibilities for differentiation. 
With such immense potential for increasing retail spending, it comes as no surprise that live commerce is a staple of today's Chinese eCommerce scene. Moreover, the US, European, and Latin American markets are also growing, albeit at a slower pace and in different ways. India, however, is a different story: conventional e-commerce platforms and channels remain dominant, and companies have subsequently slashed the budgets previously allocated to live commerce efforts. 
The Current Global Scenario
In just five years, Chinese live commerce has grown into a $60 billion market today. So, what is it that makes live shopping so popular in China? Simply put, it's easy. Live shopping in China is driven mainly by functional reasons: 64% of the respondents to the Mckinsey survey cited the ease of shopping for their favorite brands, 61% said better prices and deals, and 52% cited access to exclusive products. In contrast, while convenience and better prices do matter to American and European shoppers, 42% of the former and 38% of the latter cited 'fun' as their main reason for live shopping. 
The popularity of live-stream e-commerce is witnessing significant growth in North America, Brazil, and Europe. In the US, live commerce sales exceeded the 2022 figure of USD 17 billion, and experts predict that this figure will triple by 2026. Similarly, in Brazil, one out of every ten shoppers has participated in a live-stream festival. In Europe, the pandemic's impact on consumer behavior was evident as live shopping witnessed an impressive 86% increase, the highest growth globally. This surge indicates the immense potential and growing popularity of live commerce in these regions.
Shows featuring exclusive deals and sales are the most popular form of live commerce content across markets globally. The second-most popular content type, however, depends on the region: influencer/celebrity product reviews in China, product tutorials in Europe, expert reviews in the US, and a three-way tie among tutorials, expert/influencer Q&As, and new launches in the Latin American market.
Chinese shoppers primarily use Douyin (the Chinese version of TikTok) and Taobao Live, with other smaller players such as Xiaohongshu trailing by some distance. These apps have advanced e-commerce capabilities such as show hosting, embedded videos in personalized feeds, in-platform checkout, and a detailed dashboard that captures data for sellers. Conversely, Europe, the US, and Latin America all used the same platforms – Facebook, Instagram, TikTok, YouTube, and Amazon – to varying degrees. 71% of Latin American shoppers used Instagram while 51% used Facebook; American and European shoppers preferred Facebook over other channels (54% and 57% respectively). Live commerce via brand-specific websites, however, has many more takers in the West than in China, particularly given that social media channels such as Instagram and Facebook withdrew their live shopping functionalities in March 2023 and October 2022 respectively.
The Way Forward for Global Retail Growth
There are several reasons why live commerce is becoming so popular. First, it allows consumers to interact with sellers in real time. This builds trust and rapport, which translates to more sales. Second, live commerce shows make the buying experience more engaging than traditional e-commerce. Product tutorials, live trials and reviews, Q&A sessions, etc are more interesting for the retail consumer than static posts and marketplace listings. Third, live commerce can create a sense of urgency and FOMO (Fear Of Missing Out), leading to impulse purchases. 
So, can the 'emerging markets' (in the context of live commerce!) capitalize on the growing interest in live commerce and increase their retail sales? Of course, but their approach needs to be highly tailored to their audience, responsive, and must use digital technologies to enhance customer experiences. Pushing a bunch of products on a live-stream won't cut it. 
As discussed earlier, one major challenge that western companies are facing is the discontinuance of live commerce functionalities on social media platforms such as Facebook and Instagram (both Meta products), and the uneven availability of such functionalities on other social media apps across  regions. Social media is a powerful marketing channel and can be used to identify your audience and direct them to the live-streams, and previously, drive conversions. Without live commerce functionalities, companies have to split their marketing and sales efforts between social media and the brand website/app hosting the live-stream. 
On the flip side, brand websites and apps offer richer user data and insights that companies can leverage to understand their customers better and enhance the customer experience through better content, fixing issues, and/or innovation. Therefore, companies should focus on hosting quality live-streams on their website/app in order to increase their effectiveness and drive sales. 
The Great Indian Question
Why hasn't live commerce caught on in India? A 2022 RedSeer report said that India's live commerce would reach $4-5 billion by 2025, with  beauty and personal care (BPC) expected to grow the highest and surpass $1 billion in GMV. Major eCommerce platforms such as Flipkart and Myntra also have active live commerce plays (Flipkart Live and M-Live). Other major players in the space include homegrown short video apps such as Moj, Josh, Taka Tak, and Chingari, as well as third-party live-streaming apps like Roposo.
But the growth has not matched early expectations. Recently, Mohalla Tech's ShareChat downsized its live commerce division, citing a shift in focus to profitability. Trell is also reportedly shifting focus from social commerce to a more advertising-focused model. Thanks to unit economics, Snapdeal is yet to introduce live commerce; so is Meesho, despite running pilots for its live commerce platform towards the end of December 2022. The TikTik ban also curtailed access to an app with all the required live commerce features built in. Combined with the rollback of such features by Meta-owned products, many Indian startups lack the cash to invest into live commerce. 
The federal government in India is also looking at introducing regulations around influencer and eCommerce marketing to tackle unfair trade practices and misleading promotional content. As of January 2023, influencers must mandatorily disclose any material benefits received from a brand for promoting its products on their platform. Furthermore, the Bureau of Indian Standards (BIS) has initiated conversations with stakeholders across the country to put together a regulatory framework for live commerce in particular; this move is a response to the International Standards Organization beginning the process of framing international standards for live commerce, says an article published by ET Prime.
Therefore, it appears that while the appetite for live commerce has waned somewhat, there is still a degree of interest from companies and audiences. The challenge, then, is two-fold:
Technological – finding/building platforms for live commerce that allow for high-quality streams as well as smooth sales processes.
Sales – Direct the existing eCommerce customers towards live-streaming and live shopping to drive retail spending.
Leveraging new-age technologies such as AI, automation, and data analytics is a must. Automated sales, AI-enabled personalization of customer experiences, and one-click or one-tap payments are all ways to make the live shopping experience as seamless and frictionless as possible and drive conversions. Hosting live-streams on owned platforms will ensure that companies can leverage vast amounts of data and use the insights gained therein to enhance the quality of their live commerce offerings.
Event-based discounts and sales in the form of live-streaming festivals can also be a major draw: Alibaba's Singles' Day pre sales campaign on Taobao Live in 2020 generated USD 7.5 billion in total transaction value in the first 30 minutes. Last year, the Hero XTreme 160R Stealth 2.0 was launched exclusively on Flipkart Live during Diwali. According to YourStory, 2.6 lakh people were logged in to witness the bike being launched on a live-stream. More such live shopping festivals would greatly help increase live commerce's social mindshare and therefore make it more attractive to consumers. 
In conclusion…
Regardless of country or market, there are a few universal principles for success in live commerce: careful planning around what and when you stream; high-quality content that is engaging and informative; multichannel promotions of your live-streams in advance; quality, engaging interaction with your audience that encourages them to participate; following up after the live-stream with links to the featured products and any additional information.
Live commerce can increase retail spending through increased engagement, carefully creating FOMO and encouraging impulse purchases, increased social proof that acts as User-Generated Content, and seamless, personalized customer service. Live commerce should be convenient, affordable, and above all, fun! Overall, it is a powerful tool that can be used to uplift retail spending. It is worth considering for retailers who are looking to increase sales and improve customer engagement.
As live commerce continues to grow in popularity, it will likely have a major impact on the retail industry. It has the potential to revolutionize the way that products are sold and to create new opportunities for retailers.